Post by kot on Feb 5, 2019 19:21:09 GMT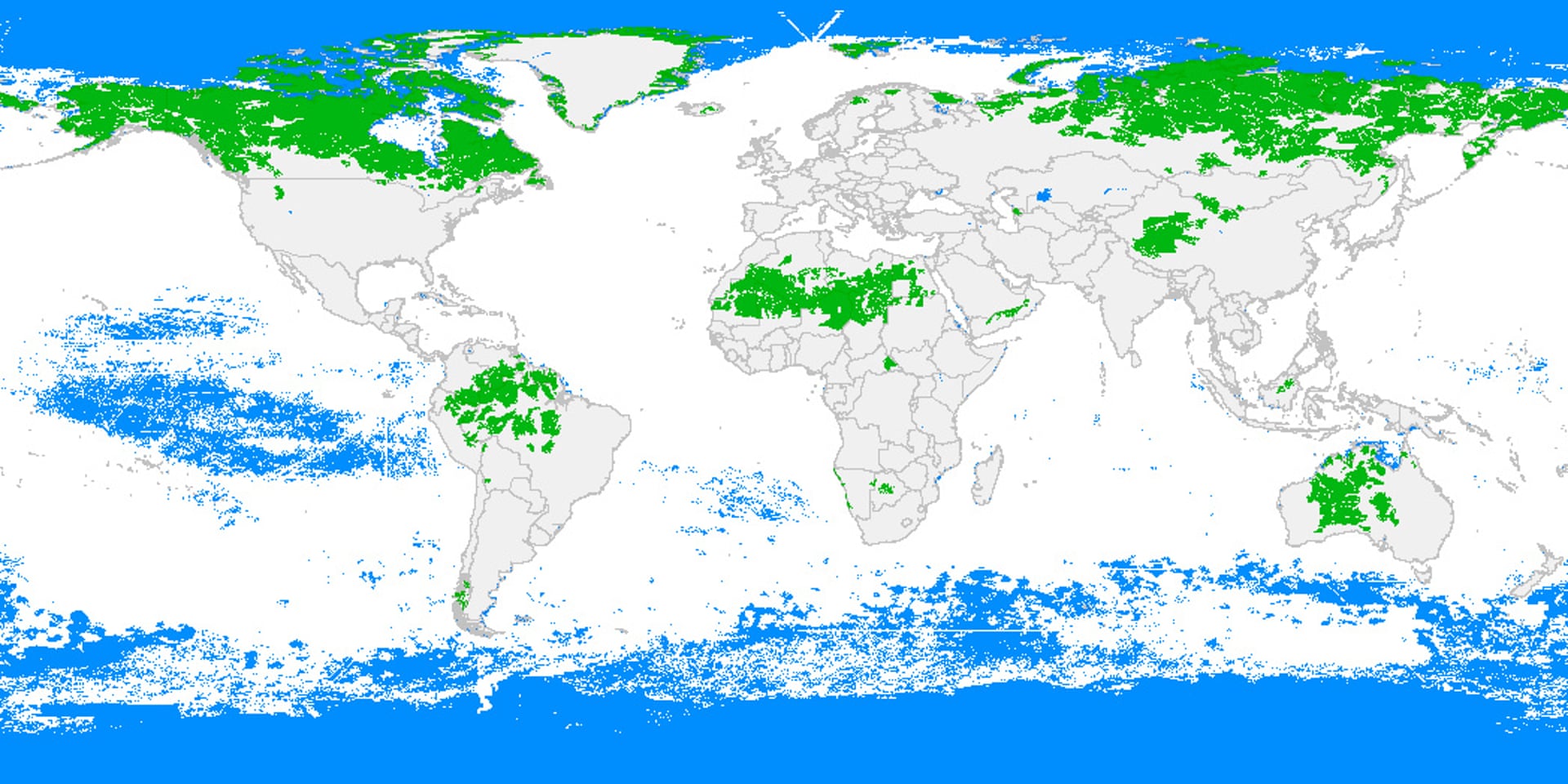 Map of the world's remaining wilderness. Green represents land wilderness, while blue represents ocean wilderness
Just five countries hold 70% of the world's remaining untouched wilderness [1] areas and urgent international action is needed to protect them, according to new research.
Researchers from the University of Queensland (UQ) and the Wildlife Conservation Society (WCS) have for the first time produced a global map that sets out which countries are responsible for nature that is devoid of heavy industrial activity. It comes ahead of the conference of parties to the Convention on Biological Diversity in Egypt in November where signatory nations are working towards a plan for the protection of biodiversity beyond 2020. Conservationists are calling for a mandated target for wilderness conservation that will preserve the planet's vulnerable ecosystems.
The UQ and WCS study, published in the journal
Nature
, identifies Australia, the US, Brazil, Russia and Canada as the five countries that hold the vast majority of the world's remaining wilderness.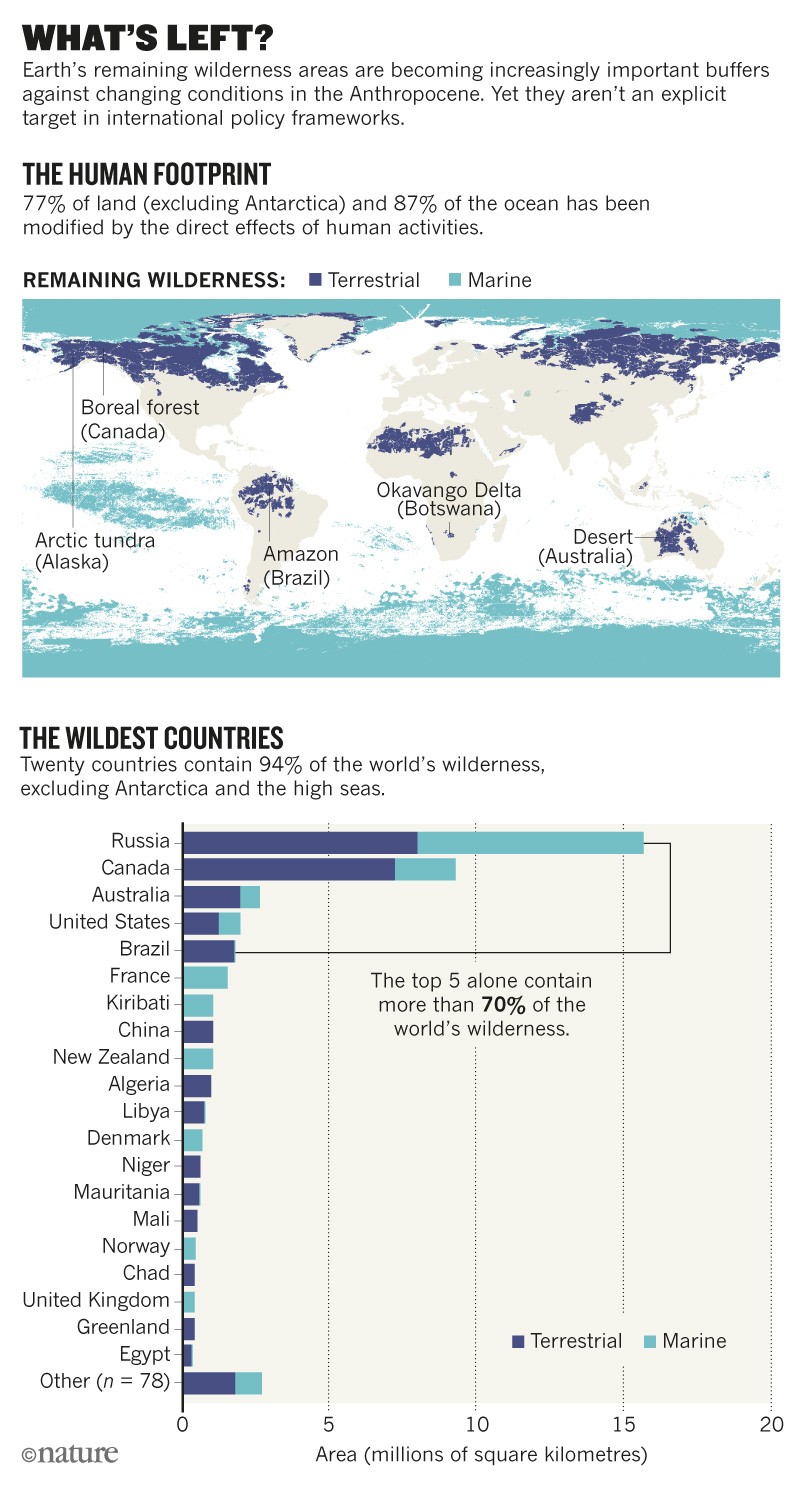 The data excludes untouched wilderness in Antarctica and on the high seas that is not contained within national borders.
The paper comes after the team of scientists produced data in 2016 that charted the planet's remaining terrestrial wilderness and in 2018 examined which parts of the world's oceans remained free from the damaging impacts of
human activity
. They found that more than 77% of land – excluding Antarctica – and 87% of oceans had been modified by human intervention. "Two years ago we did the first analysis of wilderness on land," lead author James Watson said.
"In this new analysis we've created a global map and intersected it with national borders to ask: who is responsible?"
The researchers say that the planet's remaining wilderness can be protected "only if it is recognised within international policy frameworks".
They're calling for an international target that protects 100% of all remaining intact ecosystems.
"It's achievable to have a target of 100%," Watson said. "All nations need to do is stop industry from going into those places."
He said the five countries responsible for most of the world's remaining wilderness had to provide leadership and could act to protect these areas through legislation or by offering incentives to businesses that do not erode nature. John Robinson, the executive vice-president for global conservation at WCS, said wilderness would only be secured globally "if these nations take a leadership role".
"Already we have lost so much. We must grasp these opportunities to secure the wilderness before it disappears forever," he said.
Link to the article (
Link
)
Link to the main article with references to the research (
Link
)
[1] What do the researchers mean with wilderness? The awnser for them is from this quote of the article in Nature.
To map Earth's remaining terrestrial wilderness, we used the best available data on eight indicators of human pressures at a resolution of 1 square kilometre. These were: built environments, crop lands, pasture lands, population density, night-time lights, railways, major roadways and navigable waterways. For our map of intact ocean ecosystems, we used 2013 data on fishing, industrial shipping and fertilizer run-off, among 16 other indicators.
We identified wilderness land or ocean areas as those that were free of human pressures, with a contiguous area of more than 10,000 km2 on land.
----
I think its important to understand the logic of this phenomenon. The essay ''
Why the technological system system will destroy itself
'' can provide us a hint.
''Suppose a forested region is occupied by a number of small, rival kingdoms. Those kingdoms that
clear the most land for agricultural use
can plant more crops and therefore can support a larger population than other kingdoms. This gives them a
military advantage over their rivals
. If any kingdom restrains itself from excessive forest clearance out of concern for the long-term consequences, then that kingdom places itself at a
military disadvantage
and is eliminated by the more powerful kingdoms. Thus
the region comes to be dominated by kingdoms
that cut down their forests recklessly. The resulting deforestation leads eventually to ecological disaster and therefore to the collapse of all the kingdoms. Here a trait that is advantageous or even indispensable for a kingdoms short-term survival—recklessness in cutting trees—leads in the long term to the demise of the same kingdom.
This example illustrates the fact that,
where a self-prop system exercises foresight, in the sense that concern for its own long-term survival and propagation leads it to place limitations on its efforts for short-term survival and propagation, the system puts itself at a competitive disadvantage relative to those self-prop systems that pursue short-term survival and propagation without restraint.'
'